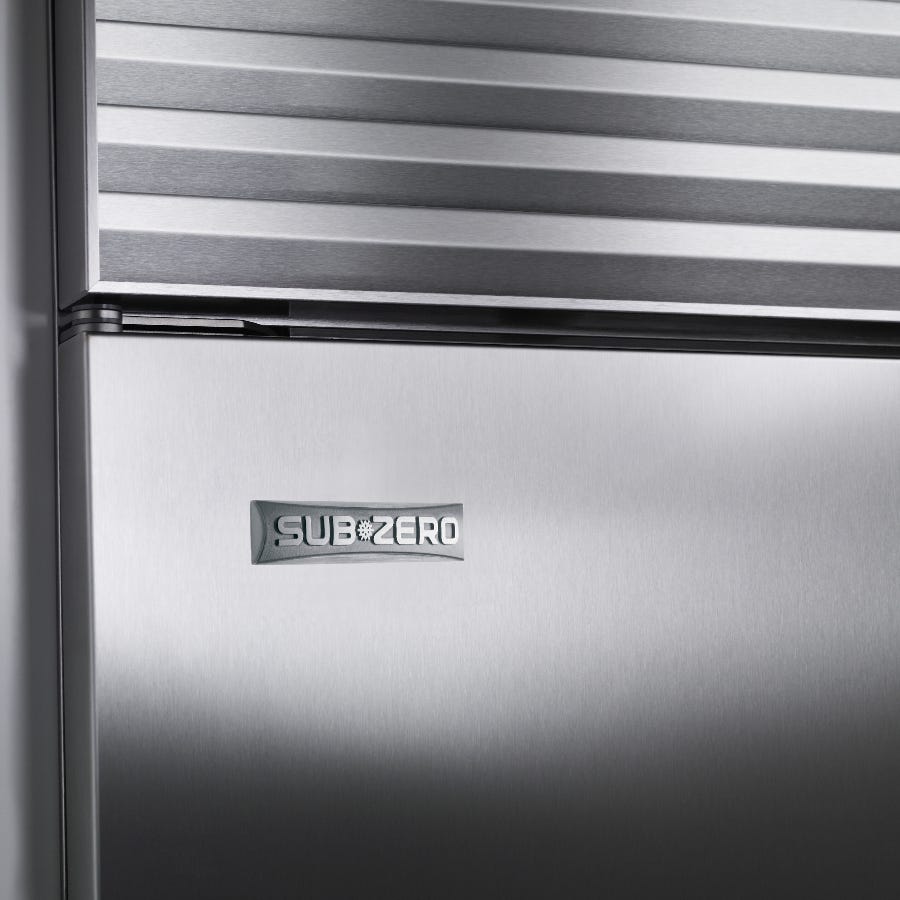 BUILT TO LAST
The Refrigerator is often the most used appliance in the Kitchen, and the most often opened door in a busy home. That is why Sub-Zero appliances are designed for longevity, functionality, and desire to contribute to the family home. With unparalleled quality and the highest grade of materials used during manufacturing, you can expect a purchase like this to stand strong for years to come. With timeless designs and the option for either Integrated or Stainless-Steel panelling – Sub-Zero allows customers to find, not only a Fridge that is perfect for their Dream Kitchen, but perfect for any Australian home.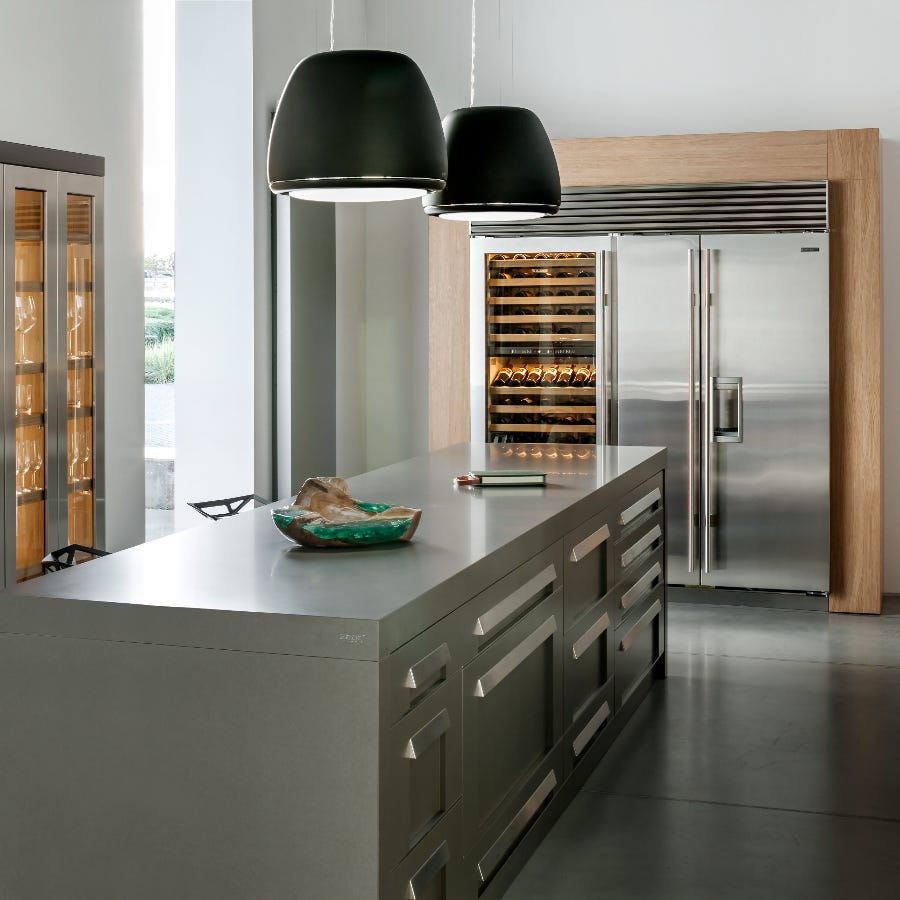 DUAL REFRIGERATION SYSTEM
Sub-Zero's advanced dual-refrigeration system features two separate cooling systems designed to precisely control the air movement and environment of each zone. While Fridges require cool, moist air to support optimal freshness for meats, vegetables and other produce, Freezers remain an environment that requires sub-zero temperatures in a stable, dry air zone to preserve our stored food without damaging the biology of proteins and vitamins. Choosing a Sub-Zero Refrigeration system will give you the best value out of your weekly groceries and continue to deliver food preservation with a focus on freshness and ensuring flavoursome ingredients for years to come.
MICROPROCESSOR CONTROL
Sub-Zero refrigerators feature a state-of-the-art microprocessor which preserves food by adjusting to your individual climate and schedule. It continuously monitors each section of your refrigerator and freezer ensuring temperatures are kept within a degree of your settings.
LED LIGHTING
Light up your Kitchen with the tremendous LED lighting featured in all Sub-Zero Appliances. Combining an energy efficient power use and a display that will avoid dark hidden spots at the back of the unit, the lighting in Sub-Zero Refrigerators will help everyone from our midnight snack friends to those looking for a special ingredient they were sure they still had tucked away! Designed to last as the appliances do, the lighting in Sub-Zero Appliances is one fit for all Australian homes.
ADVANCED AIR PURIFICATION
Combining technology developed by NASA and Westye Bakke's innovative desire for long lasting preservation, today's Sub-Zero Refrigerators feature an advanced air purification system that help control odours and reduce nasty ethylene gases that can damage our fresh produce. What does this mean for the weekly grocery bill, less waste and better flavour filled ingredients. A chance at extending the life of apples, avocados, and our favourite weekly buys, while reducing the chance of spoilage and disappointment, and limited cross contamination of flavour into your ice freezer space. With only yearly requirement for maintenance and around the clock results – Sub-Zero's air purification filter will be at the top of your favourite features.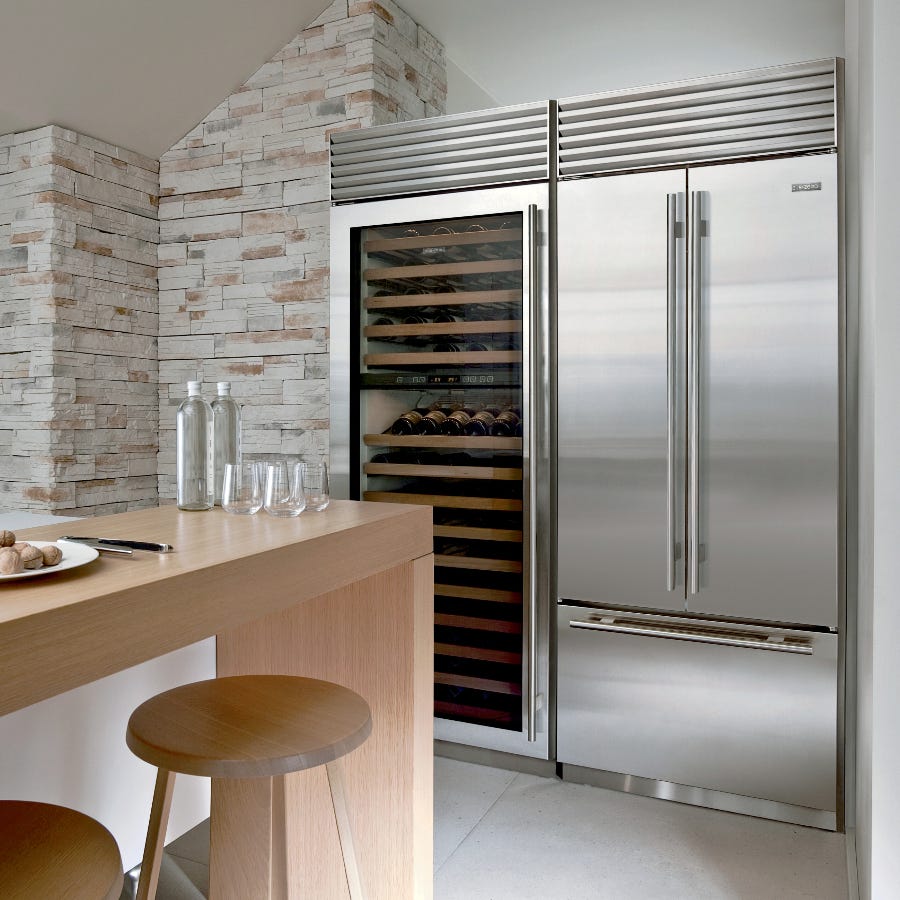 ICONIC LOOKS
With the choice of stainless steel frontage or to integrate seamlessly into your cabinets, Sub-Zero refrigerators and freezers are an iconic addition to your Dream Kitchen design. Perfectly fitted flawlessly into your plans, bring to life your culinary space with an appliance you have forever been trying to hide. Available in a variety of sizes, configurable options, and functional choices for your preferred layout – A Sub-Zero Appliance will be both a strength and pillar to your kitchen and a statement piece to your home.
FILTERED WATER DISPENSER
Enjoy deliciously chilled and purified water whenever you like – even with an integrated refrigerator. Selected Sub-Zero refrigerators feature either an internal or external water dispenser that filters and purifies water – removing even the smallest impurities while preserving its clean, fresh taste. Create more space in your fridge with no longer a need for bottles of water, reduce your plastic waste and have an always ready, refreshing beverage waiting for you.
FLEXIBLE SHELVING
The main shelves, door shelves and drawer dividers in Sub-Zero refrigerators are easy to adjust, making it easy to store everything from the smallest condiment jars up to the tallest cake stands, casserole dishes and bottles.
AUTOMATIC ICE MAKER
Never run out of ice when you need it most. Sub-Zero freezers feature an automatic ice maker, removable ice container and 'max ice' feature that increases ice production by up to 30% for up to 24 hours – great for entertaining, hot summer days and the holiday seasons. With models that include the option for internal or external dispensers, this is a wonderful feature to include in your well thought out Kitchen.
FRESHNESS CONTROL
Lock in freshness and care for your favourite food and drink. Sub-Zero refrigerators feature soft-close door hinges, magnetic seals on doors and drawers and extra-heavy insulation designed to lock in cold air. Helpful freshness cards located in the refrigerator feature easy tips to ensure maximum food preservation – this way we can learn about properly storing food in the right zones and get the best value out of our groceries!